Wednesday
10:00 am-8:00 pm
Thursday
10:00 am-8:00 pm
Saturday
10:00 am-5:00 pm
720 Baugh Road
Nashville, TN 37221
United States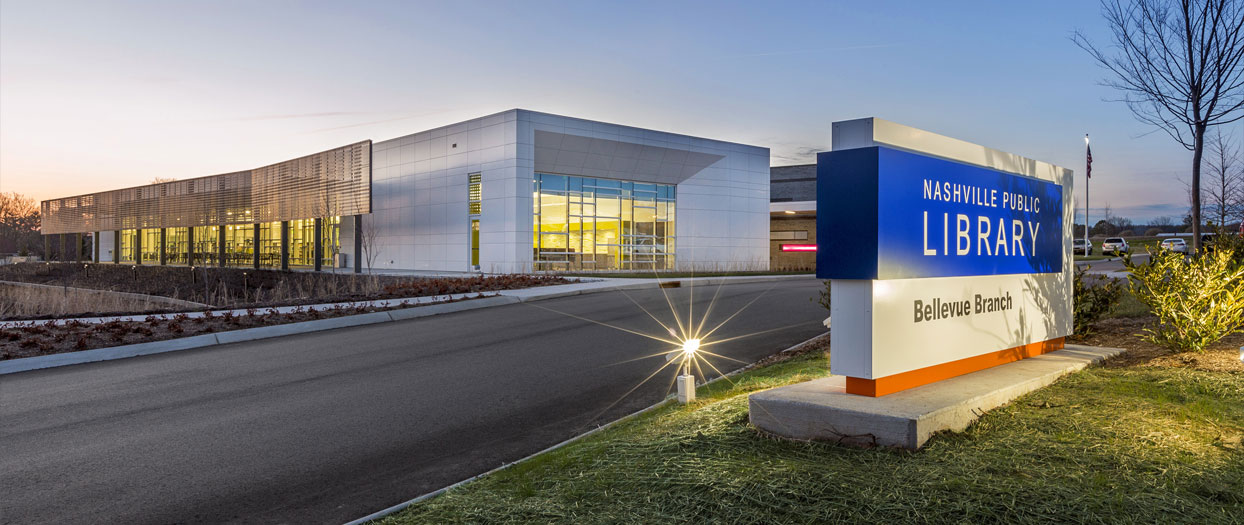 About Bellevue Branch Library
Bellevue Branch Library opened in January, 2015. The new Bellevue Branch features a children's area, teen area, computer space, café style coffee and vending area as well as meeting room space.
Outdoor features include a walking path, reading porch, and a large steel and glass sculpture, Great Beginnings, by Beverly Stucker Precious. This public art was inspired by the idea of a "learning tree," with the first sentences of great works of literature interwoven through the branches and leaves.
Inside, enjoy The Spirit of a Place, an interactive history wall curated by local historian F. Lynne Bachleda and the Bellevue History and Genealogy Club. Also, look up to see Rise Above--a public artwork of nearly 90 birds soaring through the building--created by Bellevue-area artist Brenda Stein. Rise Above was inspired by Bellevue community's resiliency and the limitless possibilities of books and learning. Both public artworks were commissioned by Metro Arts with the Percent for Art fund.
December 6, 2023 11:00 AM

December 6, 2023 4:00 PM

December 6, 2023 6:00 PM

December 7, 2023 1:00 PM

December 7, 2023 3:30 PM