This is part II in the series about Metro Archives' work during quarantine, continuing with the projects of my boss and coworker, Ken and Kelley. 
Brief recap of this series if you have not read part one: Metro Archives staff took home several projects to work on while sheltering-in-place. This series shares unique discoveries from our quarantine work. My and Drew's projects were covered in part one. 
In addition to adapting to a new work environment during quarantine, we all also gained new coworkers that weren't always the most cooperative. In fact, some of them were often sleeping on the job or on our work. Check out Kelley's "coworker" below. 
Kelley's Project   
Sorting and arranging the correspondence from the 

Genevieve Baird Farris Collection
And now Ken's new "coworker", standing guard over his work...
Ken's Projects: Processing various city documents, including
Chancery Court Chancellor's Opinions, 1931-1951 

Historical Documents Box 
Davidson County Repatriation Records 
Nashville Receivership Docs 
Chief of Police order book from 1891-1898
Unique court case involving a doctor
Kelley's Project
Processing the Genevieve Baird Farris Collection
One of the projects that Kelley worked on during quarantine was sorting and arranging the extensive correspondence found in the Genevieve Baird Farris Collection.
A little background on Genevieve Baird Farris: she was a Nashville resident and member of several clubs in the city, including the Centennial Club, the Belle Meade Country Club, the Junior League of Nashville, the Vanderbilt Aid Society, and the First Presbyterian Church. She was also a founding member of the Brook Meade Garden Club, as well as active with the Nashville Children's Theatre.
Her husband, Frank M. Farris, Jr. was a lawyer who founded one of the city's prominent law firms. Actually, he established two law firms in the city. Just after World War II, where he served in the Navy, he established the firm Farris, Evans, and Evans.
In 1972, he established Farris, Warfield and Kanaday. He was also the son of the founder of Third National Bank, which is now SunTrust Bank.
Frank and Genevieve "Geny" were married for nearly 60 years, until Frank passed away in 2000. Geny died in 2015 at the age of 98.    
The vast majority of the correspondence in the collection is between Geny and her husband, while he was stationed with the U.S. Navy in the Pacific, during World War II. The dates range from 1939-1945, and the two exchanged hundreds of love letters, particularly between 1943 and 1945.
Kelley's project consisted of cleaning and flattening the letters, and then putting them in acid-free folders and arranging them chronologically by sender/recipient.
Here's an example of a few of the letters that exemplify their sweetness, starting with a letter from Frank to Geny, dated November 8th, 1943...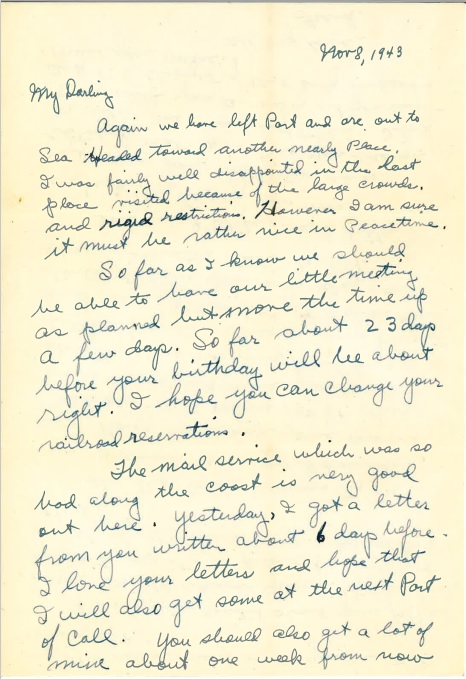 And a letter from Geny to her husband, from February 10th, 1944...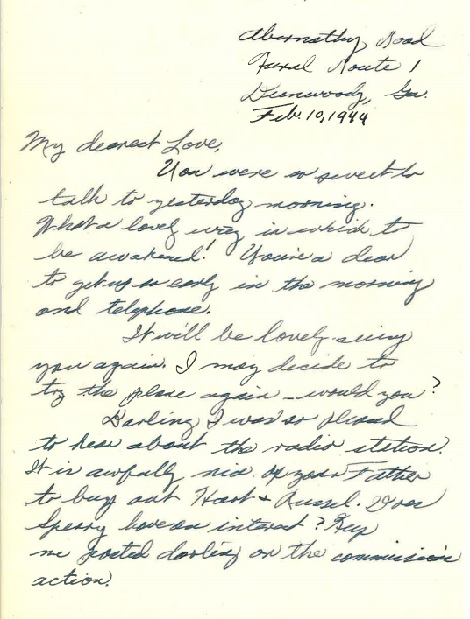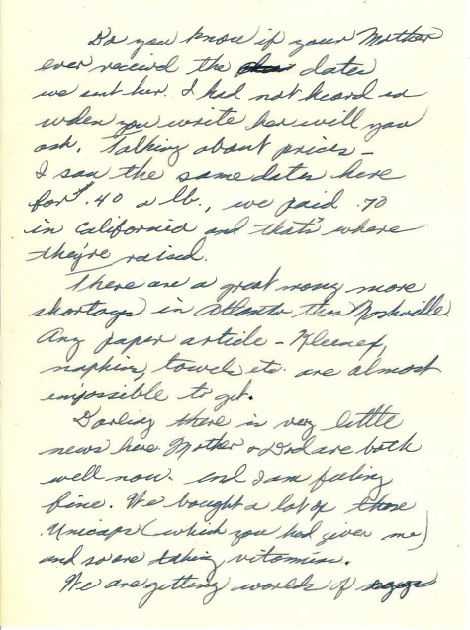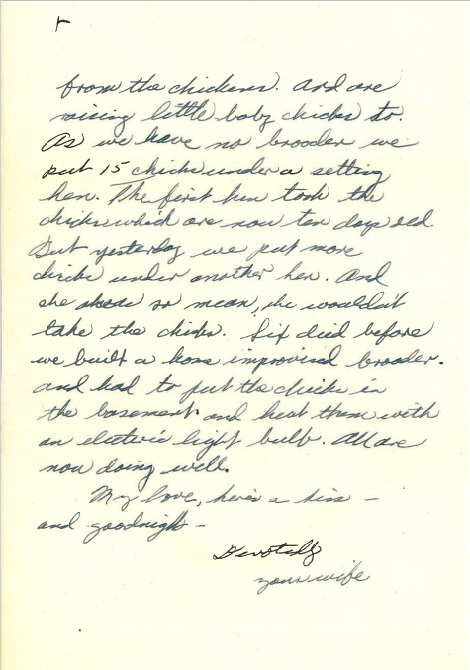 Ken's Projects
Chancery Court Chancellor's Opinions, 1931-1951 
These files are the Chancellor's official opinions on cases. The Chancellor would make a judgment on a case and explain the decision that was made.
One case that Ken mentions involved a contractor and an elderly woman. She said the contractor took advantage of her age and physical condition (hearing, sight loss, mild confusion) to cheat her out of promised work. The Chancellor's response was that he observed her while she testified, and she appeared fully aware of what was going on, and he thought she used the "little old lady" routine.
To the Chancellor, the playacting was mediocre at best as she fully understood each question. Chancellor ruled in favor of the contractor which means she had to pay the full-agreed-upon price for the work done.
Historical Documents Box 
A box in our collections labeled "Problem Children" is an orphan collection of documents ranging from 1805-1930. Ken's project was to inventory them.
The most interesting cases he's found so far are: 
A deed for 50,000 acres in West Tennessee

An actual indenture from 1800 that's incredibly fragile and needs attention 

Various cases involving prominent Nashvillians in all types of legal disputes.

And one really interesting case involving the guardian of a minor who was promised land upon the death of his father. Apparently, the father died and left the son the land, but the son was a minor so he couldn't accept it immediately. The family kept the land, and the guardian is trying to get it back.
Davidson County Repatriation Records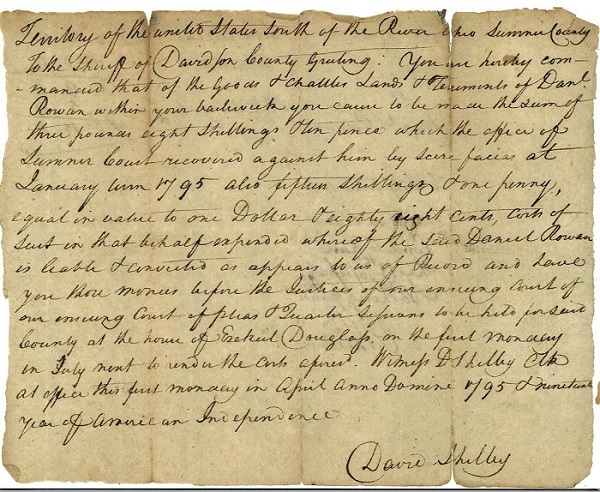 These were returned to the County during Tennessee State Library and Archives' move. A really great one, Ken says, is a 1795 Sheriff's Warrant that you see above.
It is actually SIGNED by the sheriff, and it is the oldest known document we have from the Sheriff's Office. So this find is a real treasure. 
The Nashville Receivership Docs
These documents are from 1869 when the city went bankrupt selling bonds, writing checks, etc. The signatories are names anyone would recognize as famous Nashvillians: James Napier, Phillip Lindsley, John Overton, etc. 
Also, the bond was $500,000 dollars—an astronomical amount in 1869. 
Chief of Police Order Book, 1891-1898
This is an order book of Chief of Police, John C. Clack, 1891-1898.
It is a book of orders to the police. It shows who is on the force, what they are policing, complaints from citizens, etc.
He said he found a couple of interesting entries: one is about playing baseball on Sundays, since that was against blue laws until early 20th century.
Another involved a set of neighbors that a woman simply "can abide no longer."
Lastly, A Court Case Involving a Physician in 1860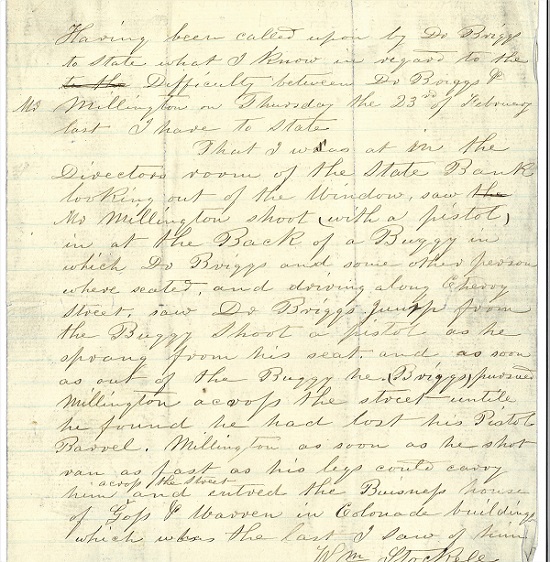 Another interesting find was a court case involving a physician who was an adulterer. According to the testimony of an unknown witness, apparently the husband who discovered the physician went after him, shooting at his buggy. The physician jumped out of the buggy, returned fire and chased his assailant until "he found he had lost his pistol barrel." The husband then "ran as fast as his legs could carry him across (spelled acrof for that time frame) the street..."
Kelli and Carissa's "Coworkers"
Part III of this series will publish sometime in the next few weeks with Kelli and Carissa's projects. Kelli is the Audiovisual Archivist and Carissa is the Assistant Audiovisual Archivist of Metro Archives. So stay tuned for some cool project details from them! 
But in the meantime, I thought I'd introduce you all to their new "coworkers"...
And Carissa's patient "coworker"
Section
Genre / Topics
Age Groups