Tracing the origin of cement polar bears is a genealogy first, but has been quite the adventure and learning experience for Nashville's business past.
Having lived in Nashville most of my life and driven by these bears on several occasions, I've always been curious about what their story was and where they originally came from, but never had the answers until now.
It All Started with Yummy, Frozen Custard...
Does it sound surprising that the iconic polar bears started at a frozen custard business? No, not really. But that the frozen custard treat used to be a favorite of the city? Yes, that surprised me a tad. 
Local ice cream parlors in Nashville aren't exactly rare, dating back even to the 1840's when Sarah Estell owned a shop on 5th Ave N, that was a favorite of many – especially the attendees of the nearby McKendree Church. 
But frozen custard isn't something (that I know of) you can find in Nashville now – or it's not in abundance at least.
It might've started with owner T.B. (or possibly T.V.) Hughes though, and the Polar Bear Corporation. He was the owner, secretary, and general manager of the firm, having moved here to make it his permanent home.
The home of the company was in Memphis, and there were branches in the other major cities of Tennessee. But Nashville had two locations owned by Hughes – one across from Centennial Park at 2609 West End Ave (where J. Alexander's presently sits) and the other at 425 Gallatin Rd. 
The bears were molded and created at a company by the name of G. Mattei Plaster Relief Ornamental Co. that used to sit at the corner of 4th and Elm. They each weigh somewhere between 600 and 1,000 lbs (with each clipping I read, the bears kept getting heavier), sit in eight feet of concrete, and are in a "perpetual snowball fight."
The Polar Bear Corp. came into business in the city approximately 1931 and apparently took off in popularity among Nashvillians, providing a cold and delicious treat during the hot and humid summers. Doctors even promoted the healthy importance of the delicious treat!
The frozen custard concoction of eggs, cream, sugar, and vanilla was made in full view of customers in specially-made machines. The quality of ingredients being so high, even the vanilla used cost $25/gallon – just over $400 today.
The custard was sold in containers ranging from cones to gallon containers. And when those largest containers were packed, it could retain its cold condition for a long time, "making it an excellent dessert for picnics or outings."
As you can sort of see in the photo at the top of the post, the buildings were constructed to resemble snow or ice houses.
"With icicles hanging from the eves, faithfully carrying out the idea of frigidity as portrayed by the guardian polar bears." 
A 2001 Tennessean article talks a little about the history of the company and the polar bears, and mentions that it was the preference of soft-serve ice cream after World War II that did frozen custard in, but I think it was earlier than that. And one can see why with spending $25/gallon on vanilla! My guess though is that he sold the company sometime before 1938 (or '35 even) to other ice cream or restaurant businesses because...
In 1938, Candyland and Pastime Inn Restaurant are both listed at the 2609 West End Address
And at the 425 Gallatin Rd address, the Stumb Ice Cream Co. is listed
The Bears Become "Pall bearers" (I know, bad joke)
So where did the bears go after the Polar Bear Corp. was no more in Nashville? According to former owner of one of the Germantown bears, Michael Emrick, they became "pall bearers" because of their next home. And this is where the quadruplet's get separated.
In early 1940, Reverend and funeral home owner Zema Hill purchased the bears for approximately $65/each (equivalent to $1,200 today) from an ornamental shop on Lebanon Rd.; he placed two of them in front of his residence at 1408 Edgehill Ave (a house that is sadly no longer there but you can see in the photo at the top of the post), and the other two in front of his funeral home at 1306 South St.
According to his son that's quoted in several news clippings, his father thought they added a "decorative touch." 
When Hill's funeral home on South St. was sold to the Patton Bros. in 1952, the bears were then sold to a homeowner in North Nashville. In an unfortunate and unrelated event after the sale of the funeral home, Zema Hill was robbed of $32,000 that had been strapped to his legs. Two New Jersey gamblers were sentenced to 15 years in the highly-publicized case. 
So two remained at the home on Edgehill until sometime in the early 21st century (around 2002 I believe); MDHA (Metro Development Housing Authority) then got involved with community residents to create a citizens' advisory committee, which then planned and built a community plaza to display the bears. The plaza was unveiled in August, 2005; see it in the photo below the clipping.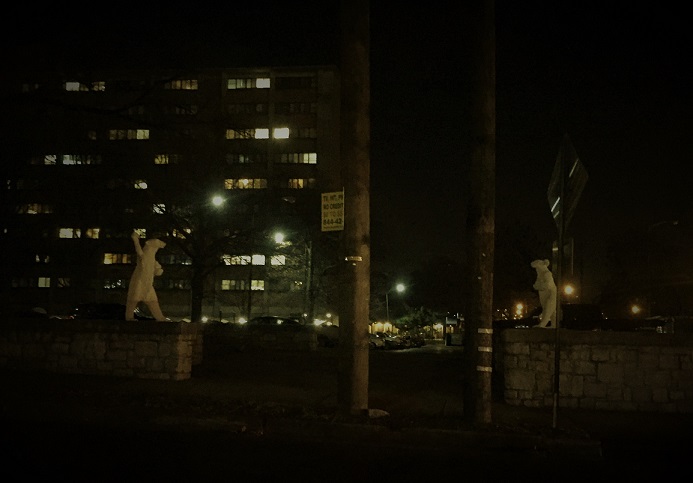 Two Bears Migrate to Germantown
When the two bears that used to stand in front of the funeral home were sold to the North Nashville resident, they remained at that unknown home for quite some time. Until Germantown residents Michael Emrick and Phil Rush set about searching for the iconic bears.
Emrick described the bears as "sort of a cult kind of thing" and "the ultimate in yard art." While Rush disagreed and said "they're more just a funny part of Nashville history."
One (or both, I'm not sure) of the bears, possibly the one whose arm was broken off, was found in a vacant lot in North Nashville; it was transferred to Emrick's home at 1229 6th Ave N.
I think it might still reside at this address, albeit owned by the Historic Germantown Neighborhood Association now (I think), as Michael Emrick passed away a few years ago (we have a collection of his work with the neighborhood association at Metro Archives). 
But actually, before the bear could find its new home at Emrick's 6th Ave abode, he was sent off to the "hospital" to have his broken arm fixed. Based on Google-searching the address now, it looks like the arm may have never completely gotten fixed though. Not sure why. 
The other bear found a home at Rush's house at 1228 6th Ave N, right on his front porch. If that's where it still resides, I'm not sure.  
UPDATE: as of 2023, I can confirm that the Germantown polar bears are in cleaned-up and shiny condition, and both reside on 6th Ave N as "neigh-bears". Sorry, had to get another pun in there ;) 
Their current homes are: 1237 6th Ave N and 1229 6th Ave N.
The last time I recall seeing the bears in Germantown were still on 6th Ave N, not far from Monell's Restaurant. But I haven't been back in that part of town in a while. Wherever they reside now, I hope they continue to be a part of Nashville's iconic history for a long time! 
'Til next time, Happy Holidays!
Sarah 
Section
Genre / Topics
Age Groups