This isn't the first time I've referenced the Criminal Court Case Files in a blog post, BUT I reference them now because thanks to our wonderful volunteers in Archives, the index of case files is complete! And we've located some rather interesting cases that have occurred in Nashville over the last century - including the one I'm going to tell you about now that started as a business rivalry and culminated as a shooting. 
But before I get into the juicy details of that particular case, here are some notable highlights of the completed case index:
The index ranges from 1821 to approximately 1992; though sadly I will say we're pretty sure these are not all of the cases that passed through Davidson County Criminal Court. 
I'm still working on re-organizing and cleaning up the index, but just from a glance I'll say the most common charges all deal with alcohol:

Violation of Bone Dry Law
Receive, Possess, and Transport Intoxicating Liquors
And winning out with the most - Tippling, with over 400 offenses, spanning from 1911 to 1930. Which pretty much includes the era of Nashville's Prohibition/Bone Dry Laws. 
My favorite so far - Permitting Livestock to Run At Large (that occurred in 1914).
State vs. Jake Rader
And now, for the details of that case I promised you. Why is it intriguing, you ask? Well, mostly because the first item in the folder appears to be the evidence tag that was once on the attempted-murder weapon, which of course made me say "what is THIS?!" And down the rabbit hole of newspapers.com I went...
So oddly enough, this particular case starts where it ends too - at the courthouse, near the Criminal Court Clerk's office. Actually Criminal Court was a regular business site for both the victim and shooter, because they both worked in the business of bail bonds, and had been doing so for at least a decade.
Crazy, right?! Well, just wait, it gets better.  
Here are the facts of the case, starting with the key players...
Allow me to introduce you to the defendant...
H.C. "Jake" Rader, owner of the business "Jake Rader Bonding" that was located at 415 2nd Ave N at the time. He was a former county highway patrolman, and labeled as a "colorful and often controversial Nashvillian" in his obituary in the Tennessean. 
And now the victim...
Robert Waddey, owner of Waddey Bonding Agency that was located at 200 Public Square N. When he retired, he'd been in the business of bail bonds for 42 years. 
What Happened...
On Tuesday, January 7th, 1964, both men were following their usual business routines, which brought them to the courthouse. Specifically, their business was conducted on the 6th floor, near the Criminal Court Clerk's office. But the fate of this day would follow an abnormal path.
Just after noon, Robert Waddey was standing near the clerk's office, speaking with attorney Ralph Gordon, his client Mrs. Willa Dean Clinton (who was charged with murder), and her ex-husband. Jake Rader came along then, and allegedly "interjected himself into the conversation."
Rader and Waddey started arguing, and moved away from the others; the argument was apparently over who would provide bond for Mrs. Clinton. According to Rader's statement and plea of "Not Guilty", Waddey told him "Go for your gun. I'm going for mine." But of course, Waddey claimed that after words were exchanged, he told Rader not to shoot because he didn't have his gun. Who knows really. But out comes Rader's gun, and after a misfire at first, he shot Waddey in the side. 
To the average bystander, this shooting might have seemed like a one-off incident, but it was fueled by a long-lasting rivalry between the men. 
A Decade-Long Feud
This rivalry, that had caused several incidents over the years, all started roughly around 1954 when Waddey unsuccessfully ran for constable in the 12th district. Rader was highly opposed to Waddey's candidacy as well. 
And it continued well after that, including a dispute over the rules that regulated the bonding business. Where Rader saw the rules as being improperly administered, the employees at the Waddey Bonding Company viewed it as Rader monopolizing the business. 
And thus, I present you with a quote from each party that essentially sums up the 10-year feud....
Both bondsmen managed to find themselves in front of a judge several times of their own accord as well. 
Rader's list of charges appears longer than Waddey's, but it's easy to say both of these men knew their way around a courtroom and not just because of their jobs. Here's a few of their previous charges:
Jake Rader's charges...
Once prosecuted in General Sessions Court for selling allegedly-adulterated meat at his grocery store, Rader's Meat Market (1002-B 6th Ave N).
Once accused by former General Sessions Court Judge M.V. Zicarelli with "using the name of the Lord in vain" in the Criminal Court clerk's office, on a Sunday morning (this case was thrown out).
Another case that was also thrown out was a charge of assault on a Tennessean reporter in 1957. Rader apparently "socked [him] in the jaw" when the reporter failed to acquiesce to Rader's demand to not write a story on a downtown bartender. But this charge was dismissed after Rader apologized. 
A supporter of Mayor Ben West, he once got into a fight with one of West's political opponents in the City Council Chambers. His obituary identifies this (his loyalty) as what helped him get appointed as a county highway patrolman. 
After the shooting of Waddey, he also later narrowly escaped criminal prosecution for shooting a female flower vendor while aiming at someone else (a downtown bartender), in 1970. 
Sounds like an interesting guy. All that said, he was also described as someone that knew many by name and would always do anything for his friends. 
Robert Waddey's charges...
Once filed a libel suit in Circuit Court against Rader and 12th District Constable, Perry T. Williams. Waddey alleged that during the primary campaign to which Waddey also ran to be the 12th District Constable - Rader and Williams circulated a petition charging that Waddey had a record in Criminal Court. But Waddey said that record belonged to another man. 
Not long after that, Waddey and another bondsman were charged with forcibly taking a Murray, KY man from his home. The man told police that he was pistol-whipped by the men and forced to accompany them to Nashville. Charges were eventually dropped against the two, I'm guessing, because the bondsmen said that the man had jumped bail on a drunk-driving charge. 
He was once permanently barred from making bonds in General Sessions Court, after he'd got into a fight (shocker) with another bondsman who was a writer for Rader's company. Apparently this action of barring him was the strongest ever taken in Nashville against a bondsman for misconduct. This barring was later overturned by Circuit Court. 
Had to surrender his deputy's commission once for "going out of bounds with it." He'd apparently been involved in a courthouse fight (again, shocking) with a family, after he'd previously arrested their 16-year-old son and swore assault warrants against the entire family (after the fight that is). He lost his commission because he wasn't authorized to use his commission to make arrests. 
In 1983, he and a few other family members were convicted of conspiring to bribe a deputy Criminal Court Clerk to steal warrants (42 to be exact) from the clerk's office. 
I could keep going for both of them, but you get the idea. 
The Jury's Decision and Aftermath
Before revealing the decision of the court case, I'm sure you're more curious about who posted Rader's bail...at least I was.
Well after the shooting, Rader was rushed into the nearby D.A.'s office by an investigator for the District Attorney. It was there that he broke down and provided his reason of pulling out his pistol. After providing his statement, he was released thanks to Police Sgt. Morgan O. Smith, who signed his $1,550 bond. This actually caused the Police Sgt. to retire (after he was suspended first), because he violated police department rules by signing that bail bond. Go figure. 
Poor Waddey on the other hand was in the hospital for quite some time after the shooting. His condition fluctuated between fair and critical, and he underwent surgery a couple of times at Baptist Hospital.
As of February when Waddey was still in the hospital, the District Attorney General Harry Nichol said that they'd wait to see if he would recover before charging Rader; looks like that happened on March 27th, 1964 after Waddey was in the hospital for 47 days.
Waddey was confined to a wheelchair after the shooting, because the bullet lodged in his back and damaged his spinal cord, and caused him to be paralyzed from the waist down. By the time of the trial though, he'd improved to crutches. 
Rader's official charges that came in March were: "Assault with intent to Commit Murder in the First Degree and Assault and Battery and Malicious Shooting." And for carrying a weapon (38-caliber pistol to be exact).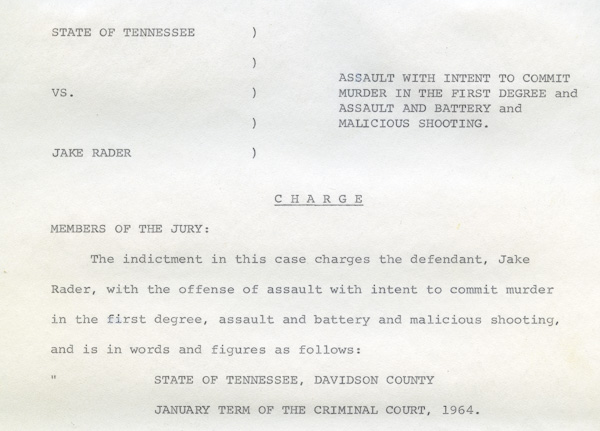 The trial took place later in the year, in early November. It was an all-male jury, with Judge Raymond H. Leathers presiding. 
As I briefly touched on earlier, Rader's plea of "innocent" was for self-defense because he felt threatened by Waddey. He testified that Waddey said that he was going for his gun, and then his hand moved toward his pocket as if he was doing so...
"He threatened to stomp my guts out and then said he had a pistol and would shoot me half in two...I walked away from him, but he followed me and then put his hand in his pocket. That's when I shot him."
Of course, it was the defense's intention to create a case that Rader's fear of Waddey was warranted. And it sort of seems like they did that well. Actually, from reading one of the news clippings that talks about how "tempers flared" between the attorneys, it sounds like a trial that would've been fun to sit in on. Here are some of the highlights: 
Waddey's ex-wife testified that he had a bad reputation and was involved in many fights and assaults (you read my above notes about his previous charges, right?) 
Waddey's son got on the stand and testified that his mother was lying about his father. Fun family drama. 
Several witnesses for the defense testified that Waddey DID in fact put his hands in his pockets, but also took them back out before the shot was fired. 
"Under cross-examination, Waddey testified that he had been in several fights but was 'never the aggressor." 
And my favorite part - Rader was asked if he was on "pep pills" the day of the shooting. Rader said, "no, I wasn't. If I had been, I would have shot him five times instead of one."
Sadly yet not surprising, the jury didn't fully believe Rader's story. He was found guilty of assault and battery. He was sentenced to 30 days in Metro Jail, and fined $50 + court costs. He got lucky though, since the jury found him "Not Guilty" on the other two charges of "assault with intent to commit murder" and "malicious shooting". Fair enough since he argued that he could've shot him many more times but stopped at one bullet. I mean, come on, give the guy a break.  
After the court was adjourned, Rader wept openly, and told reporters that he was pleased with the verdict. He was given 30 days to file a motion for a new trial, but it doesn't appear he would appeal. And that wasn't the end of this case, but it was the end of his bondsman career, sadly. 
A few years later, Waddey came back at Rader with a lawsuit for $100K, to which Waddey won; $75K was for actual damages, $25K for punitive damages. Rader was set to appeal that, but I never found a follow-up clipping that indicated whether he did...or if he did and lost/won. I'm guessing he just paid the guy. 
See, I told you - crazy! But also, 1964 seemed like a bit of a crazy year in Nashville. If you haven't already read about the Paula Herring murder, which happened almost 2 months after this courthouse shooting - I'd check that out next! 
'Til next time and Happy Halloween, 
Sarah
You might also like...
Section
Genre / Topics
Age Groups