Writing a blog entry to tell our readers about the collection they processed might just become a regular project with the intern program in Metro Archives, as I'm bringing you another great post from our most recent intern, Sabrina Austin.
Sabrina processed the intriguing "Genevieve Baird Farris Collection" for us, and I'm going to allow her to tell you about the Farris family from her own words. Without further ado, Sabrina take it away...
I was lucky enough this summer to process a large collection of items donated by the Farris family of Nashville. Because it includes hundreds of letters and memorabilia saved by Genevieve Baird Farris, the collection tells a story about the lives of the Farris family and their love of Nashville.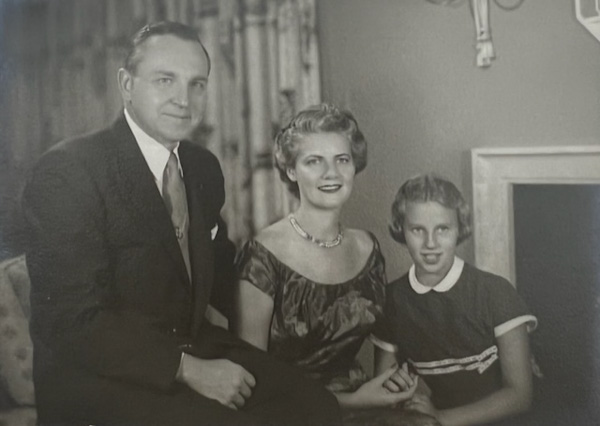 Genevieve Baird was born December 18th, 1916, in Atlanta, Georgia. She graduated from Washington Seminary and Arlington Hall before going to Agnes Scott College. Genevieve was a member of the Girls' Cotillion Club and made her debut in Birmingham, Alabama in 1937. While her accomplishments start off in Atlanta and Alabama, most of her life and involvements take place in Nashville where she went to live with her husband Frank M. Farris, Jr. 
Frank M. Farris, Jr. was born September 29th, 1915, in Nashville, Tennessee. He graduated from Vanderbilt University and passed the bar to practice law in 1939. His career was put on hold, though, when he enlisted in the U.S Navy in 1942. 
This couple has an impressive history in Nashville. Our collection shows their lives, containing information about the start of their relationship, the careers and clubs built, and the family that grew in this Tennessee city.
"Dear Geny" Letters: The Love Between Genevieve and Frank
Genevieve and Frank married in 1941, however the couple remained separated for some time while Frank was stationed in the Pacific during World War II. The collection holds letters sent between the couple during Frank's enlistment.
Frank's letters sent to Genevieve cannot hide how much he loved her. There are hundreds of letters in the collection, many written between 1943 and 1945, and most letters begin by calling her one of the following endearments: 
•    Darling
•    Dearest Geny
•    Angel Geny 
•    My Little Wife
•    Pretty Doll
•    Sweet Thing
•    Sweet Wife
(comment from Sarah: "awww how adorable")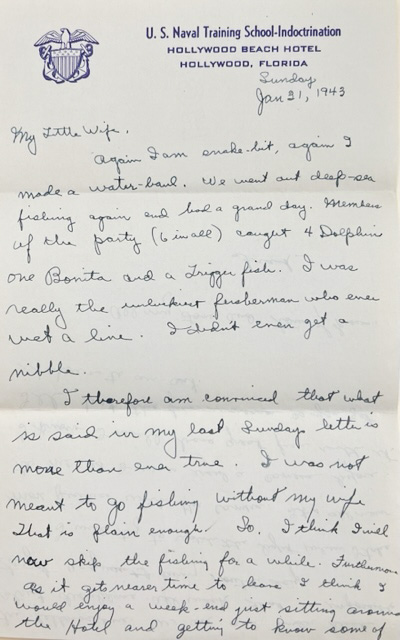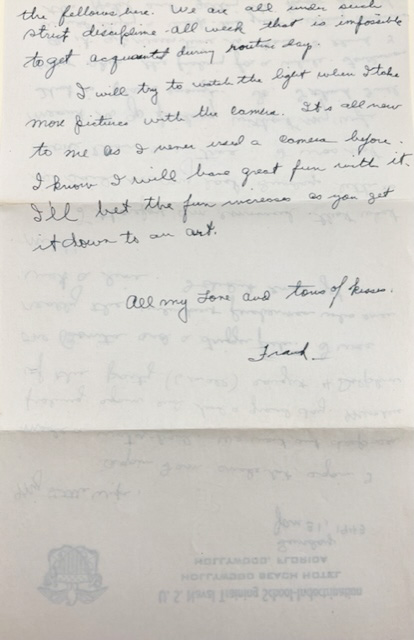 The letters tend to be about light topics. Frank writes about his days on a ship or when he goes fishing with his friends and crewmembers. The couple inquire about each other's health and how their parents are doing. A large portion of each letter that Frank writes to Genevieve is about how he misses her and wishes they were together. 
The Many Pursuits of Genevieve Baird Farris
Mrs. Farris liked to be busy. She joined and created several clubs and organizations during her life in Nashville. According to the collection, the clubs she was involved in were:
•    Brooke Mead Garden Club
•    Children's Theater
•    Citizens for Eisenhower
•    Junior League of Nashville
•    Traveler's Aid
•    Volunteer Activists 
An interesting find regarding her time with the National Citizens for Eisenhower was a story about her campaign to ministers in Nashville. There are several newspaper clippings detailing how Mrs. Farris and others wrote to ministers in Nashville asking them to implore their congregations to vote for Eisenhower in the coming presidential election. 
Mrs. Farris told the newspaper that they only had two negative responses from ministers about the request, but they had a "very nice reaction from others."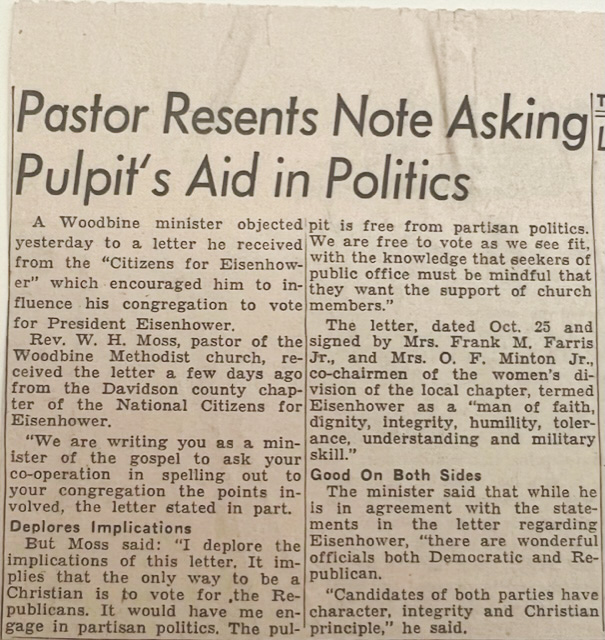 Another organization that Mrs. Farris was active in was the Nashville Children's Theater. She was a chairman of this company that was formed by the Junior League in 1931.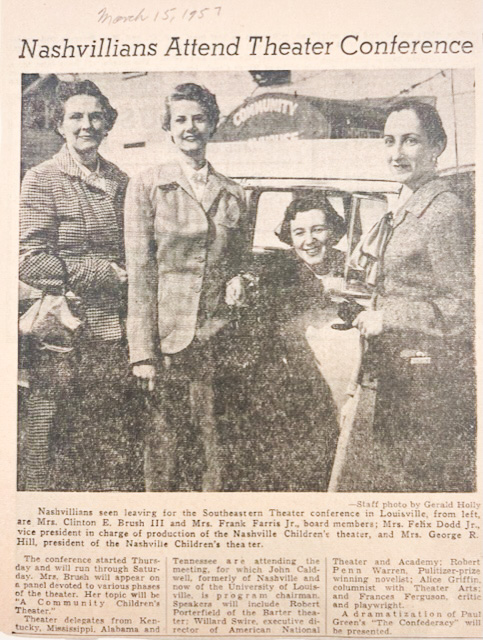 The Many Pursuits of Genevieve Baird Farris Part 2: Like Mother, Like Daughter
Like her mother, the younger Genevieve Baird Farris was involved in many activities. A chunk of the collection is scrapbook contents from everything Genevieve accomplished in school and extracurricular activities. 
She was very active in horse shows from a young age. One of the scrapbooks of the collection is dedicated to the Pony Club Show of 1958. The contents include horse show programs, ribbons, and newspaper clippings. One of the many certificates that Genevieve earned was in demonstrating that she passed a test for the Pony Club in 1959.
In addition to certificates and ribbons for horse shows and sports like basketball and tennis, Genevieve received a certificate from the National Rifle Association for her marksmanship.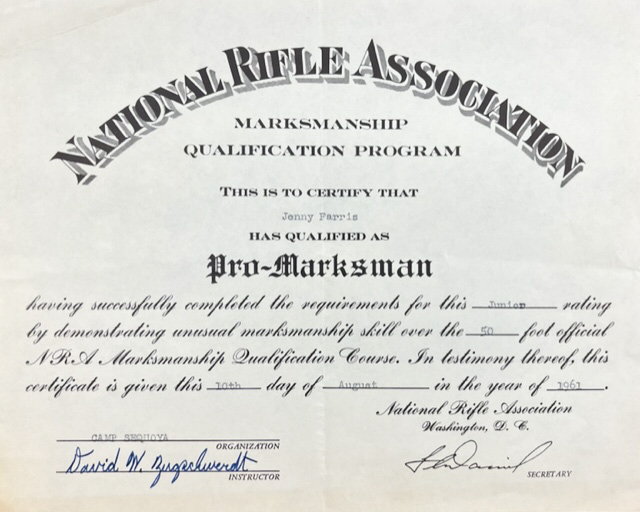 There are hundreds of memorabilia and photographs from her time of debut. Genevieve saved invitations, pictures, and programs from cotillion at the Belle Meade Country Club. This event was certainly important to the Farris family as both their daughter Genevieve "Jr." and her mother participated, and they saved many items to remember that time.
And following in her father's footsteps as well, Genevieve later got her BA from Vanderbilt University.
Remembering the Farris Family
Genevieve's husband, Frank, passed away in 2000, and his "darling wife" followed him in 2015. Their daughter only lived two years longer, passing away in 2017. The collection was donated by Farris family members so that the accomplishments and stories of Frank M., Genevieve Baird, and their daughter Genevieve Baird Farris can be preserved and remembered. 
Sabrina, Archives Intern
Section
Genre / Topics
Age Groups